Ed Slott discusses Tax Free IULs is a must watch video for those seeking financial independence and a mind blowing retirement.
Tax-Free IULs are an IRS Alternative To 401(k) and 403(b) retirement plans with no downside risk.
• You don't lose money when the markets go down!
• Share in Market Upside when Markets go up!
• Earn Reasonable Rates of Return!
• Gains Locked In Annually!
• Tax-Free Penalty Free Withdrawals at any age!
• Tax-Free Income You Won't Outlive!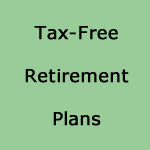 Contact us at 800-955-7898 for a personal illustration.